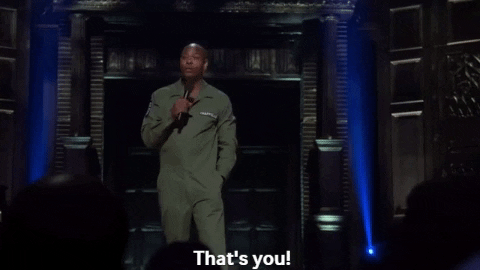 So some critics–mostly incel members–passed around the one laptop that they all share, taking turns posting hit pieces for their respective online publications, regurgitating ad nauseam pretty much the same criticisms about Dave Chappelle's latest Netflix special Sticks & Stones.
They said he was unfunny–a veteran edgelord punching down on low hanging fruit and doubling down on his hatred of the LGBTQ community and women.
There was also mention of his age and wealth, claiming that he's out of touch and that the culture that once celebrated Chappelle's Show for its fearlessness in pushing boundaries had evolved. That Chappelle's writing had gotten stale, lazy and "only the worst white people" loved Sticks & Stones. And most importantly, he wasn't being progressive.
I mean, it's perfectly fine for critics to have an opinion. It's to be expected because (and not to sound cliché) opinions are like assholes…
But it's the assholes with opinions who are problematic. The wokescolds and SJWs who were somehow offended and tried to disguise their critique as journalism in order to attack Dave Chappelle as a person by calling him hateful, insensitive, and cruel.
Really?
I watched Hannah Gadsby's Nanette (also on Netflix) because I'm a huge fan of comedy. But full disclosure, I did not find her particular brand of comedy funny. And, no, it's not because she's a lesbian comic. There are lesbian comics who I find hilarious like Sarah Silverman. It's just that I don't think being a lesbian is all that funny which was the whole point of Gadsby's show.
And I get it. Being a lesbian navigating through a heteronormative world that does not fully accept your existence can be dangerous.
So was I offended because I didn't laugh at the few jokes Hannah Gadsby told? Of course not. Do I believe she was mocking Anthony Bourdain's suicide, trivializing the trauma suffered by victims of child molestation, or that she was being sexist, misogynistic, homophobic, transphobic, and racist?
I don't know.
I don't know Hannah Gadsby personally but I would say probably not. And neither was Dave Chappelle.
My point is that Sticks & Stones is not for people who foolishly believe stand-up literally means that all comics are required to champion their causes, be sensitive to their pain, tell their truths, be politically correct–tailoring a brand of comedy to fit their individual sensibilities.
Is that even comedy?
Look, comedy is neither the cause nor cure for society's many ills. Comedy should not be taken seriously. And, again, not to sound cliché but comedy helps us to laugh at people who are sensitive and easily offended because we know they're not going to laugh at themselves.
And if you can't laugh at yourself then I guess the rest of us will.